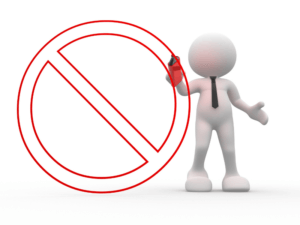 It can be quite annoying when you find an online casino offering a generous sign up bonus or a range of games that you really do fancy playing online, only for you to discover once you try to register as a new player of that site that you are not permitted to play there, either as a free player or a real money player due solely to the country where you live.
While some offshore-based online casinos will not have problems allowing players living in any country of the world to play at their casinos, there are some that have chosen to block players living in some countries from gambling at their respective sites.
In this article, we take a look at why there are player resections in place at various locations and discuss the reasons surrounding these player restrictions. Should you be having problems playing at any online casino sites, then we invite you to have a look around our website as you will find plenty of casinos listed and reviewed and will be able to locate one of those sites which will welcome you as a player no matter where you happen to live!
Specific Gambling Laws in Different Countries
There was a time when there was no real gambling legislation in place that adequately covered online gaming, and as such lots of online casino operators located their gaming servers in countries that had little taxes or were tax-free havens.
In those early days of online gambling you could sign up, deposit and play at all online casinos and use your credit cards and debit cards with no problems, as not even the banks and financial companies offering those types of cards had put into place any restrictions on you using those cards as a way of funding a casino account online.
However, many countries soon woke up to the fact that they could start to license and regulate online casinos and earn tax revenue by doing so, and over the years more and more countries have started to put in place their gambling laws which specifically targeted online casinos and any online gaming site.
As such these laws will make it illegal for online casinos not holding a gaming license in any one country to offer their services to residents and citizens of those countries, and this led a lot of casino sites placing restrictions on players trying to sign up and play from a country that those sites do not hold a gambling license in.
A lot of online casinos pulled out of the US marketplace for example back in 2006, and as the years have ticked by US States such as Nevada and New Jersey brought in new laws which allow players living in those States to be able to play at online casinos licensed in those parts of the US.
In fact UK players are now experiencing a similar thing, for the UK Government which until recently would allow any casino licensed in one of their whitelisted territories such as Malta and Gibraltar to offer players living in the UK the ability to sign up and legally play at those casinos, but they have now opted to bring out a new gambling law which makes it illegal in the UK for any casino not holding a UK Gambling Commission issued gaming licence to advertise their services on any form of media in the UK!
High-Risk Countries
As bizarre as it may seem, some players will not be able to play at certain online casino sites due to the operators of those sites being informed, usually by their payment processors, that by dealing with those players they are running a higher risk of players committing fraud.
Whilst some countries of the world do have a much greater risk of credit or debit card fraud, there are some casinos who will offer you the ability of playing at their site for real money, and some who won't, and as such if you sign up to an online casino only to then find you are unable to use your credit or debit card when logged into the banking interface it may be due to the processor blocking access to their service due to where you live.
If this is the case, then you will have to utilize one of the many different types of banking options offered at this sites such as a pre-paid voucher such as Ukash or will have to use a web wallet such as Skrill or Neteller instead.